A 4G LTE network support HD audio and video conversations thanks to a technique called voice-over long-term evolution (VoLTE). As more cell carriers roll out support for it, its popularity is rising since it offers better call quality, quicker call setup times, and simultaneous data and voice call use. VoLTE is significant because it enables more effective use of network resources and a better overall user experience, which is becoming increasingly relevant with the rise of data-intensive apps like streaming video and online gaming.
What is VoLTE?
VoLTE, or voice over long-term evolution, is a technology that enables voice calls to be transmitted over a 4G LTE network as opposed to the more conventional 2G or 3G networks. Higher call quality and new capabilities like video calls are made possible as a result. More data can be transmitted over the network concurrently thanks to its efficient utilization of network resources.
Is VoLTE available in my Area?
Due to the fact that VoLTE uses the same infrastructure as 4G LTE, it is usually available where 4G LTE is present. On the other hand, availability may differ according to the carrier and the area.
Some carriers may offer more comprehensive coverage than others, and VoLTE service may not yet be available in all places. Users' devices also need to support the technology and be set up to use it for them to be able to access VoLTE services. Some older handsets might not support VoLTE or could need a software update to do so.
How to activate LTE/VoLTE on my Nepal Telecom SIM and mobile device?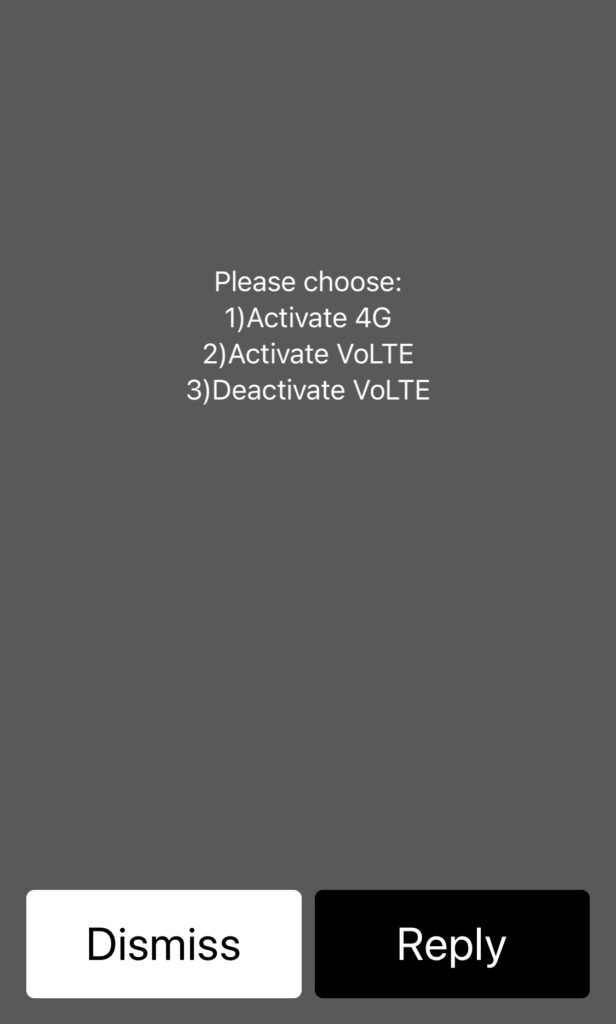 Firstly Dial *444#.
Choose "Activate VoLTE" (This will activate VoLTE in your SIM).
Activate the VoLTE setting on your smartphone.
(This will enable VoLTE on your smartphone.)
Note: It should be noted that some modern devices and software setups might not support VoLTE. VoLTE will be automatically activated in some circumstances.
How will I know if I am on VoLTE service?
You may verify whether your smartphone is linked to a VoLTE service in a variety of ways.
Check your device's status bar. You should notice an "HD/VoLTE" symbol if VoLTE is enabled.
Check your device's settings on an iPhone, go to Settings > Cellular > Cellular Data Options, and check if "Enable LTE" is turned on.
Check your device's settings on an Android device, go to Settings > Mobile Network > Preferred network type, and check if "LTE" is selected.
Call a friend. In comparison to a typical connection on a 2G or 3G network, the call quality should be better and more consistent if your device is linked to a VoLTE service.
If your smartphone is compatible with VoLTE services and you are in an area where the carrier is offering VoLTE service, contact your cellphone carrier.
Please be aware that the carrier and the device you are using impact whether VoLTE service is available.
To check if you are using VoLTE, you may also call *111# or 1444.
How much does VoLTE cost?
There is no additional cost for VoLTE service as it uses the same network and infrastructure as regular 4G LTE service. It is generally included as part of a subscriber's regular mobile plan and does not require any additional fees or charges.
Does the VoLTE service require activating a different pack?
No, the VoLTE services will be supported under the same 4G plan. Activating a separate pack is normally not necessary for voice-over LTE (VoLTE) service. However, a compatible smartphone and a data-inclusive plan could be necessary. It could also be necessary for the service to be made available in your area by your carrier. To find out whether there are any extra restrictions or expenses for using VoLTE with your plan, it is recommended to contact your carrier.
What are the Advantages of Using VoLTE?
Compared to conventional circuit-switched voice networks, voice over LTE (VoLTE) offers a number of advantages, including:
VoLTE's use of the fast LTE data network to deliver voice calls results in higher-quality audio and fewer lost calls, which improves call quality.
VoLTE calls may be set up more quickly than conventional voice calls, which can save time and enhance the user experience.
Multitasking: VoLTE enables customers to make and receive calls while also accessing data services, such as internet surfing and message sending.
Spectrum use that is more effective: VoLTE gives carriers the ability to utilize their spectrum in a way that supports more customers and services.
VoLTE makes it possible to employ Rich Communication Services (RCS) capabilities like video calling, file sharing, and location sharing, which improves the user experience overall.
Cost savings: VoLTE enables carriers to close down their 2G and 3G networks, which saves them a lot of money.
Please keep in mind, that the carrier's implementation and the phone's compatibility determine whether certain features are available.