Shark Tank is a famous television show that features prospective entrepreneurs presenting their company ideas to a team of "shark" investors. The sharks are successful entrepreneurs thinking about investing their own money in the businesses being presented in exchange for equity.
The show presents a diverse range of products and services, ranging from cutting-edge new technology to unique retail concepts. Each episode is structured similarly, with entrepreneurs introducing their ideas to the sharks and answering questions about their company models, market potential, and financial predictions. The sharks must then decide whether to invest in the company or pass on the chance. Shark Tank is well-known for its exciting and instructive structure and has assisted many entrepreneurs in realizing their dreams.
What is Shark Tank Nepal?
The famous television show Shark Tank is set to premiere in Nepal on the Himalaya HD television channel. Shark Tank Nepal is planned to premiere this year in Nepal. Following the success of Shark Tank India, this concept includes a household name in Nepal.
Shark Tank is for entrepreneurs that are already producing money and are looking for financing to scale up. Entrepreneurs must give data relevant to their company in exchange for a particular percentage of the company's equity or debt.
Who will appear as the Sharks?
The Sharks on Shark Tank Nepal are a group of successful businesspeople who considering investing in the businesses presented on the show. The sharks' names will be announced soon.
How much investment can you expect from Sharks?
The amount of investment that entrepreneurs may expect from Shark Tank varies greatly depending on the nature of the business and the specific deal made with the Sharks.
Some entrepreneurs may earn a few amounts in return for a tiny proportion of equity, whereas others may receive hundreds of thousands in exchange for a higher percentage of equity. Entrepreneurs should be prepared to give up a big amount of their firm in exchange for money because the Sharks on Shark Tank are known for being strong negotiators who are frequently seeking a high return on their investment.
It's also important to note that not every entrepreneur who pitches their idea on Shark Tank Nepal will get funding. Some entrepreneurs may not get any proposals from the Sharks, or they may decline any offers made to them. In these situations, the entrepreneurs will have to look for alternative financing or continue to expand their business without outside funding.
What are the requirements to participate in Shark Tank Nepal?
The company must be registered and have a registration certificate
The major stakeholder Founder must be Nepali citizens and
The company must have completed at least one operating year.
How to apply to Shark Tank Nepal?
There are two ways to apply to Shark Tank Nepal. One is you can go directly to their website and fill out and submit the form. And the second alternative is to use their mobile app to submit the application. In this article, we will be showing both ways. First, we are showing how to apply for Shark Tank Nepal directly on their website.
Visit www.himalayatv.com/shark-tank-application or Click Here. Fill out the form and submit them.
You must answer the questions about you and your business in a responsible manner since this will determine if you are invited to Shark Tank Nepal.
The question types are as follows:
Your Personal Information.
Name list of all the co-founders.
Your Company Details and Product or Service.
The total investment you raised already from other investors and also the percentage of your business you own.
The investment you are seeking from the sharks and for what percentage of equity.
Sales have you made so far in the last or this fiscal year.
You also have to upload the required documents. (Max file size: 8MB | Allowed format: .jpg, .png, .pdf)

The company registration certificate.
The citizenship of major stakeholder Founder.
The citizenship of other co-founders.
If you are having difficulty applying through the website, you may alternatively download the Himalaya TV App from the Google play store or App Store and then follow the instructions below.
How to apply to Shark Tank Nepal from Mobile App?
Download the Himalaya TV App from the Play Store or App Store.
At the bottom of the mobile app, you find the "Audition" option. Click on it.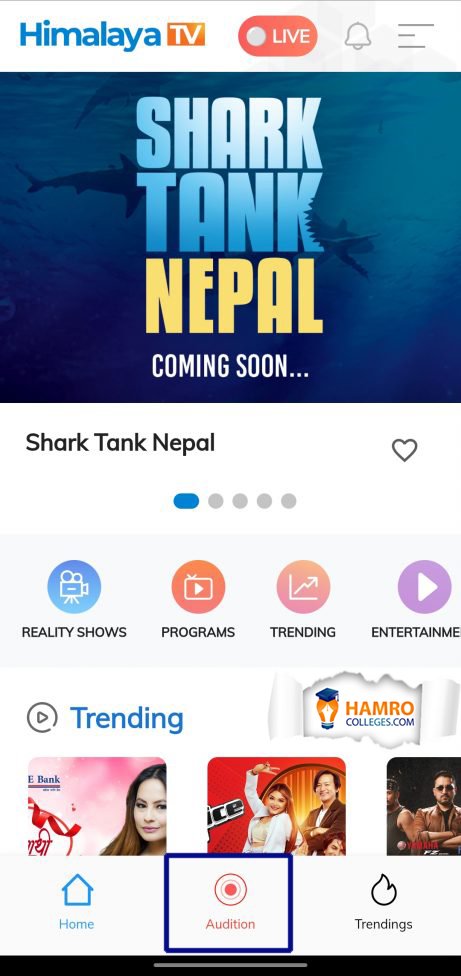 To apply for the application, go to Shark Tank Nepal and click the "Apply Now" option.
Now application form will appear on your screen, now fill out the questions about you and your business. Remember, You must answer the questions about you and your business in a responsible manner since this will determine if you are invited to Shark Tank Nepal.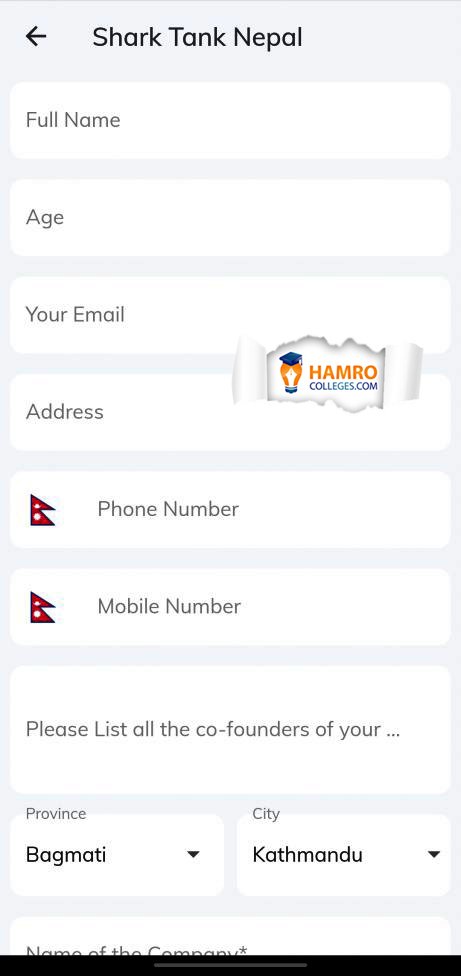 After completing all of the questions and uploading your papers, you can submit your application by clicking the "Submit" button.
Once they have reached an agreement, they will hold meetings on or off-camera to discuss the sharks' level of engagement in the business. The involvement will be entirely dependent on the two parties' agreements. The show has nothing to do with how the sharks will be involved after it ends.
Entrepreneurs that desire mentorship and coaching in addition to financing from sharks might make such proposals and agree to proceed. Again, this is dependent on the sharks' availability and willingness.